PfingstSeminar Berlin
Tango - lebendige Umarmung
19.- 21. Mai 2018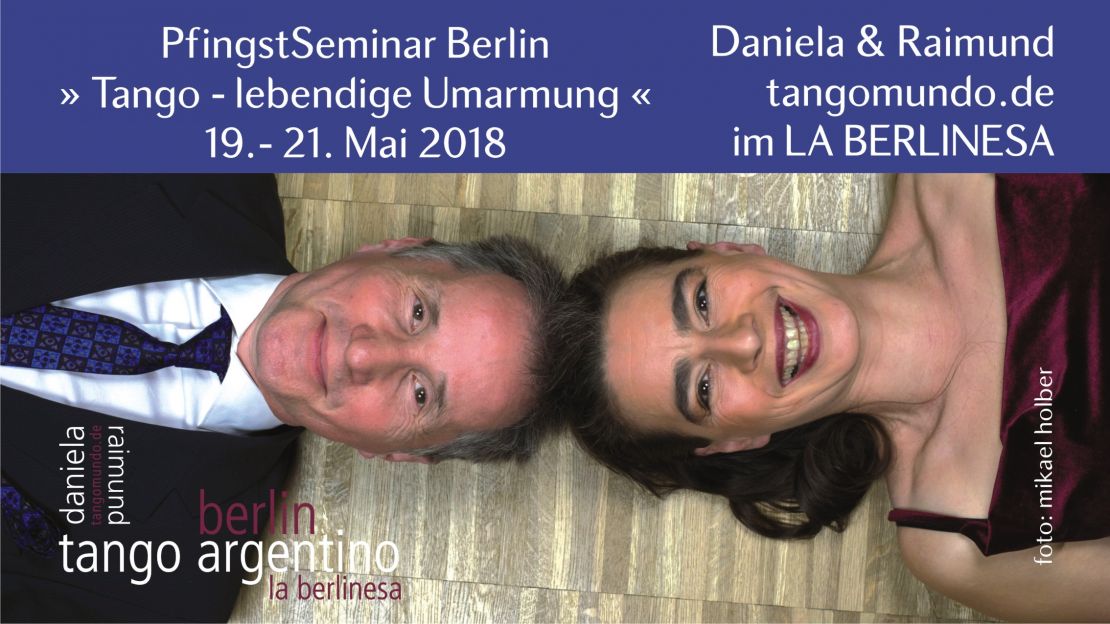 Im Mai laden wir wieder zu unserem Pfingstseminar in Berlin ein. Drei Tage mit einem vielfältigen Programm und eine gute Gelegenheit, Tango lebendig zu erleben! Musikalität und Qualität der Bewegung, eine lebendige Umarmung und stressfreies Lernen stehen im Vordergrund. Wir entwickeln vorhandene Fähigkeiten und bauen sie aus. Intensives Lernen im Seminar ermöglicht auch, eingefahrene Gewohnheiten, mit denen man vielleicht nicht so glücklich ist, zu bearbeiten und wieder Spaß am Tanzen zu finden.
In May, we invite again to our Whitsun seminar in Berlin. Three days with a varied program and a good opportunity to relive Tango! Musicality and quality of movement, a nice embrace and stress-free learning are the main focus. We develop existing skills and build them. Intensive learning in the seminar also allows you to familiarize yourself with the habits that you may not be so happy with and to enjoy dancing again.
Anmeldung:
0049/172/32 32 152
Zeitplan/Schedule

    
 

19.5.

20.5.

21.5.

14:00 bis 15:30


Unterricht/

Class

Unterricht/

Class

Unterricht/

Class

16:00 bis 17:30


Unterricht/

Class

Unterricht/

Class

Unterricht/

Class
Anderungen vorbehalten