---
Tangueras Camp in Tilburg (NL)
Marian (NL) & Daniela (D)
3. - 5. July 2020
becouse of CORONA it will postpone!
This weekend in July is meant for all tangueras who want to delve into their own dance and who wish to share experiences and ideas. You don't have to be able to dance both roles. We will deal with different themes around the question: what exactly happens in the communication between two people sharing their dance. Roles such as leading and following in dancing are questioned and studied. Getting to know the different perspectives is very enriching for your dance. You thereby build up self-confidence and the dancing gains a new dimension.
Spending an entire weekend together, lessons, dancing, cooking, eating, drinking and having fun, that is what we invite you to.
Daniela Feilcke-Wolff is an allround tango dancer and alexander technique teacher and DJ from Berlin. She will teach together with Marian Breedveld, painter, tango dancer and teacher based in Tilburg (NL), currently teaching in El Corte Nijmegen, Scala Eindhoven and in her own Tango Studio Tilburg
Contact Daniela 0049/172/32 32 152
Contact Marian 0031/(0)625 044 965
Friday




17:00

 

Arrivals

19:00

 

Dinner

20:30-21:30

 
WS 1: Caminar II & X System


21:30-00.30

 

TanguerasMilonga

Sturday




10:00 –11:30

 

Breakfast

11:30-13:00

 

WS 2:

AT & connecting

13:30-15:00

 

WS 3:

Dialogue in small moves


16:30-17:30

 

WS 4:

Ochos, Staccato & Legato

 
 

Practise time

19:00

 

Dinner

21:00-02:00

 
TanguerasMilonga


Sunday

10:00 bis 11:30 h

 

Breakfast

11:30-13:00

 

WS 5:

Compact Turns


13:30-15:00

 

WS 6:

Hermanas Locas

15:00

 

lunch

16:00-19:00

 

TanguerasMilonga

19:00

 

Good bye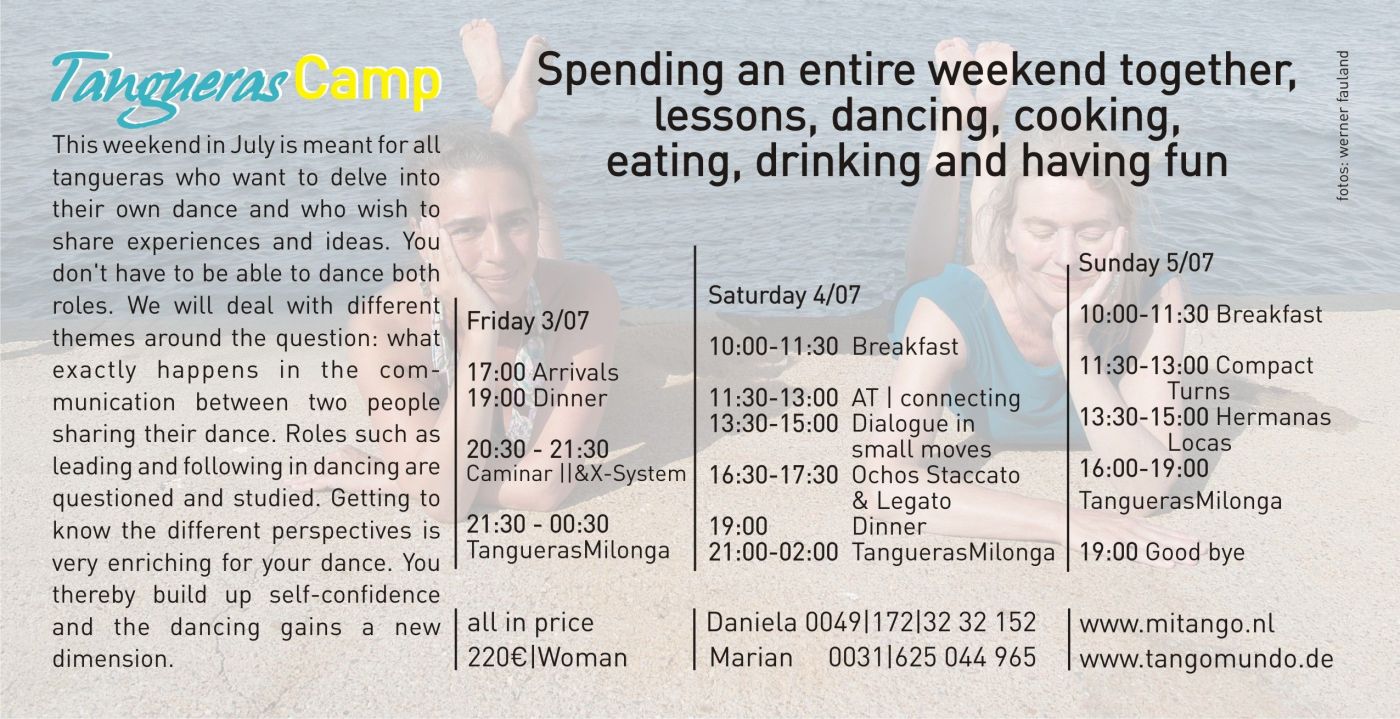 All weekend drinks and snacks.
Sleepover in the studio, bring your own matt and bag if possible.
All in price per woman 220,-
There is place for 16 woman.
Please REGISTER before Monday 1st of June

Marian http://mitango.nl/tangueras-camp-tilburg-july-2020
Daniela /tangueras-camp
After your registration, further details will be sent to you personally.
Contact Marian
Contact Daniela 0049/172/32 32 152
The program is still subject to small changes.